When traveling there is one rule I always stick to: Don't be a tourist, be an explorer. Thus for this year's summer holiday we decided to go on a road trip to Tuscany to discover the area. Although I love exploring, I also enjoy the comfort of a well-maintained hotel and a calming and relaxing atmosphere to disconnect from business as usual. So we spent 8 nights in one of the most amazing places I have ever been to: The Toscana Resort Castelfalfi. It lays right in the middle of all villages we wanted to see, so we chose to make it our home for the week. What makes it so special? Well, read on, if you're into some breathtaking imagery from one of Italy's most popular areas: The Chianti Region.
La Tabaccaia
La Tabaccaia is one of the resorts beautiful accommodations that used to be a tobacco drying barn and has come to be a luxury boutique hotel. In this charming, calm place we got everything our hungry travel souls were looking for: Lovely staff we came to appreciate so much (Daviana, a wonderful Italian lady in charge of breakfast service, who made every breakfast a special occasion), got all extras we needed (another cappuccino and some lemon water, please!) and received some really good insider tips for places to visit far from the usual tourist hot spots at the lobby. As my fiancé and I are really much into a certain comfort in our holidays, we particularly enjoyed the beautifully furnished rooms with their olive-wood parquet and the prestigious decor. It is altogether a very calming place where we felt absolutely safe and carefree. One of our travel rituals which we established: Breakfast with one classic cappuccino or two and then we would take another one out with us to the generous lobby, the adjacent lounge or to the terrace. We would grab one of the incredible coffee table books or magazines that they carefully curate and enjoy some more calm before heading out for our adventures.
We particularly appreciated the lovely birthday wishes my fiancé received on the morning of his special day and were served some prosecco and a beautiful cake to have a private little breakfast party for two.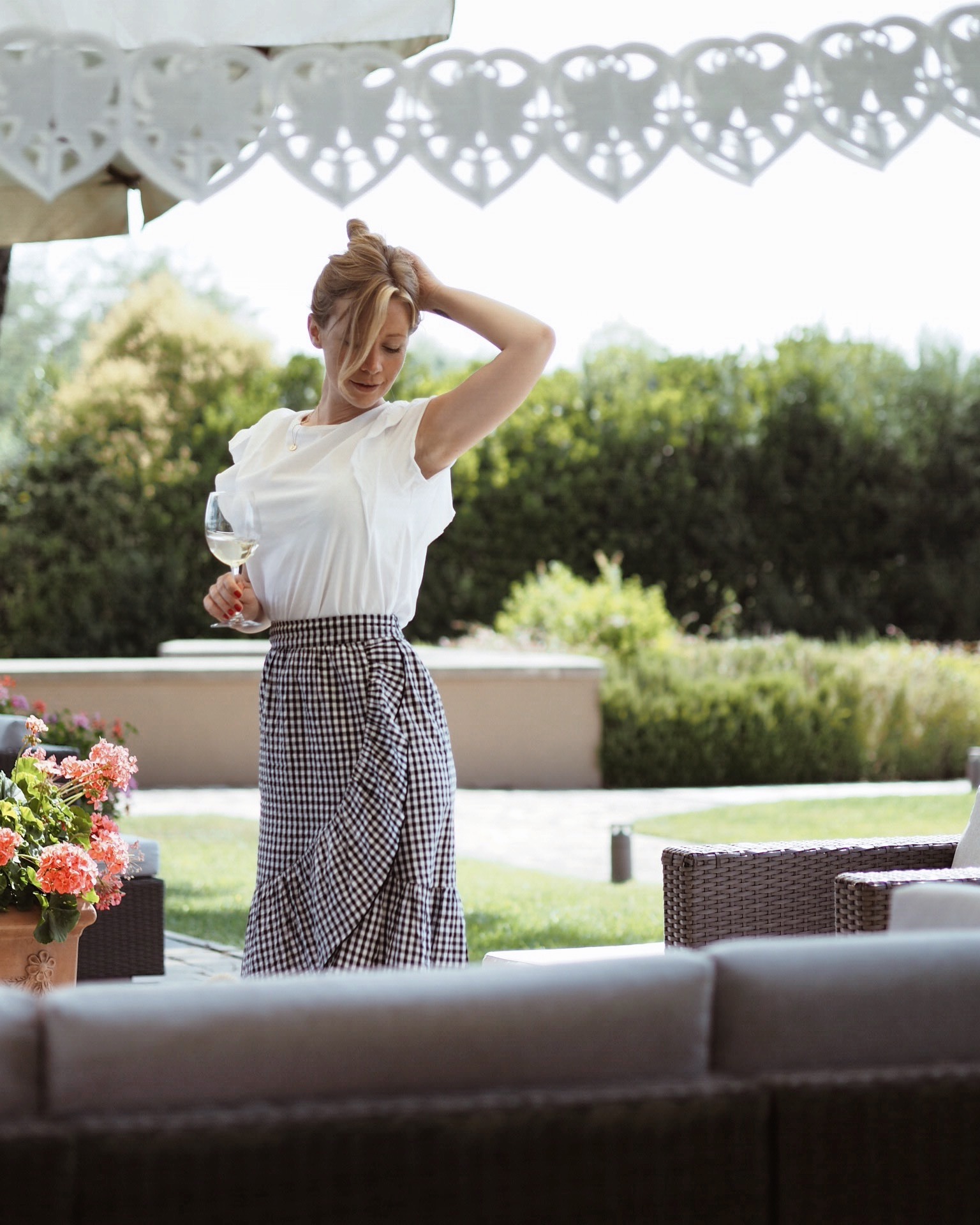 Le Piscine di Castelfalfi 
I will discover the busiest towns and places with you on a really hot summer day without batting an eyelash if only I know I can come back to a crystal clear pool and dive in before dinner. At the resort you'll find four outdoor pools which are most of the time quite empty. On 6 of 8 occasions we had the largest pool mostly for ourselves. If you follow me on Insta-Stories you might have seen me splashing around on a daily basis. So refreshing! What fascinated me the most was the view: Tuscany seems to be lying at your feet… Also I discovered my love for cypresses (obviously…) that radiate the same quiet strength as olive trees do.
'Le Piscine di Castelfalfi' are open for locals, too, and on weekends it can get  a little bit crowded, so I strongly recommend you grab the chance and explore the adjacent hotel 'Il Castelfalfi' which has been opened this year in March. They have a lovely spa area, an indoor and outdoor pool where you can enjoy the Tuscan sun just as well. Again the view is b-r-e-a-t-h-t-a-k-i-n-g and overlooking olive tree plantations, sunflower fields and pure wild Tuscan nature.
 Wine and dine
Foodies beware! Do not go to Italy if you are on a diet. There is too much to try, taste, so…
Eat the spaghetti and forget the regretti!
In Castelfalfi there are various possibilities to discover Italian cuisine. I'd like to show you my two favorite spots that we visited more than once. On the one hand there is 'Il Rosmarino', a typical Italian Trattoria which serves traditional cuisine from lasagne over pizza and pasta and lovely regional antipasti. Enjoy a glass of red wine and eat one of the always tasteful classics on their menu. Make sure to try one the wines of the region there, I can especially recommend the San Piero, a wine from Castelfalfi estate, which is 'assai leggero' – quite light.
If you are more into fancy cuisine or would like to spend an evening at one of the most beautiful restaurants that I have ever been to, go to 'La Rocca'. It is housed on the ground floor of a castle built in the 8th century in the nearby village 'Il Borgo'. It has a scenic terrace and is just perfect for romantic summer night dinners. The décor on the inside is Tuscan-style and very, very tasteful. You can feel that the whole idea of the restaurant was bringing together the history of the place with timeless classic materials and modern design elements. They offer classical cuisine with sophisticated techniques and the staff makes sure to make it an evening to remember.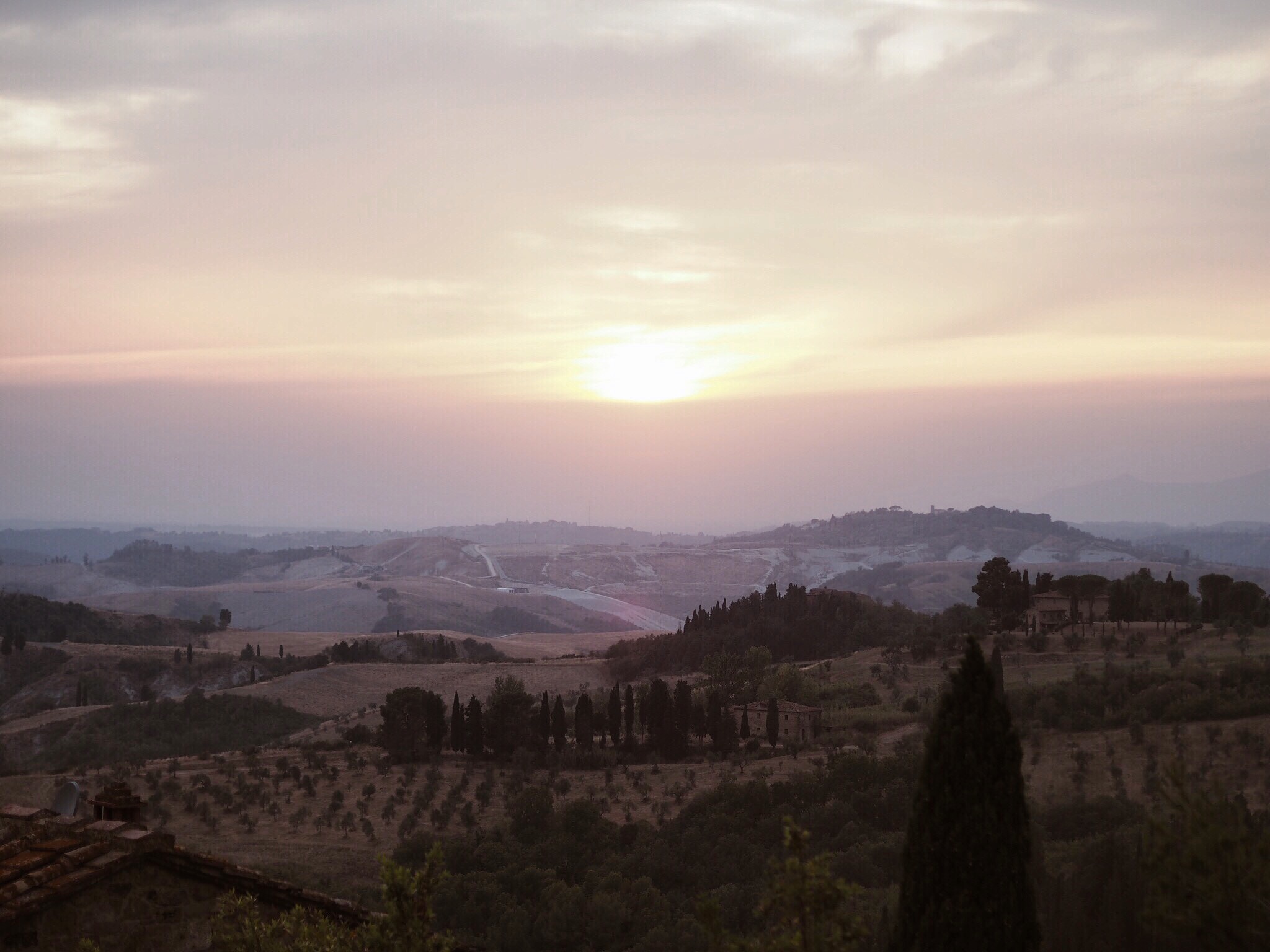 Small village - big history: Il Borgo
The Borgo was an ancient settlement in Tuscany and completely abandoned in the 60s. The rebuilding of the village was initiated by TUI AG and has brought back to life so much history. They turned the lost place into a modern resort, with an extraordinary charm and a thousand-year-old history, surrounded by an incomparable landscape. You'll find some small shops and, of course, una gelateria, in the heart of 'Il Borgo' as well as a bike rental shop and a bar. 
Time flew by and we're back home now, but believe me, some really lovely memories have been made. I would not want to miss a single day there, we enjoyed ourselves to the fullest. Last but not least, make sure to pack your running shoes and discover one of the many tracks that the resort has established through hilly areas and the nearby golf course of Castelfalfi resort.
Read from me soon! As I am writing this I am off to a new adventure – this time we're headed to the Austrian mountains for the weekend. Stay tuned and please ask me anything about the resort if you plan on going there.
*In friendly collaboration with Toscana Resort Castelfalfi.