Last week I've had the honor to go to Berlin for the Fashion Week, and Ladies and Gents, IT WAS AMAZING. Not only did I fall in love with the city, the fancy vibe of 'la gente Berlinese' but I also rediscovered why I started this here, "the blog thing", in the first place. Being out there, meeting interesting people in the industry and getting out of my comfort zone a million more times than I would normally be able to do in a day-to-day biz. I met a bunch of truly inspiring women personally (f. ex. Maddie from Daria Daria and Rebekka Ruétz both being true Austrian role models) and went away with a sense of knowing that this is exactly where I always wanted be. You know that moment? Every once in a while you know everything has fallen into place just the way it should have. Although you'd think of it as being a very superficial place (it is, too, of course) most of all I got to know so many lovely people I "know" from Instagram and/or the media personally and was more than overwhelmed by the open-hearted vibe. If you are a blogger or in fashion//beauty industry and want to do some networking – I highly recommend going there. This is where everyone in the biz meets. That being said – actually I did not see anything of the city but some sights on-the-go between the shows and showrooms – here are 3 more things I particularly enjoyed.
Trying on Fair Fashion in the Prepeek Lounge by the Fashion Changers Squad and being seated in the second row at the Greenshowroom Selected. OMG. Merci at Mangolds Outstanding Eco Lifestyle.
Being backstage before the Rebekka Ruétz show and having a little chat with her personally.
Eating out at Dudu. My gosh. What a treat. Try the dumplings and thank me later. Note: Make a reservation.
As for outfits, I wore a beautiful jumpsuit by Iva Ivanova for the Prepeek Lounge & the Greenshowroom Selected – head over to my Insta Feed & Insta-Stories for more – unfortunately I couldn't shoot the outfit because our flight was 6 hours late and I had to run to even make it to the first appointment, changed at the airport etc.
The second day I decided to channel my inner Britney Spears 90s queen and wore my go-to summer combo: Dad sneakers, a mini-skirt and a basic white blouse with a bag by the Styrian label Mutus*. The outfit for my third day (Showroom action will be in a blogpost soon, so I'll give you Britney now!)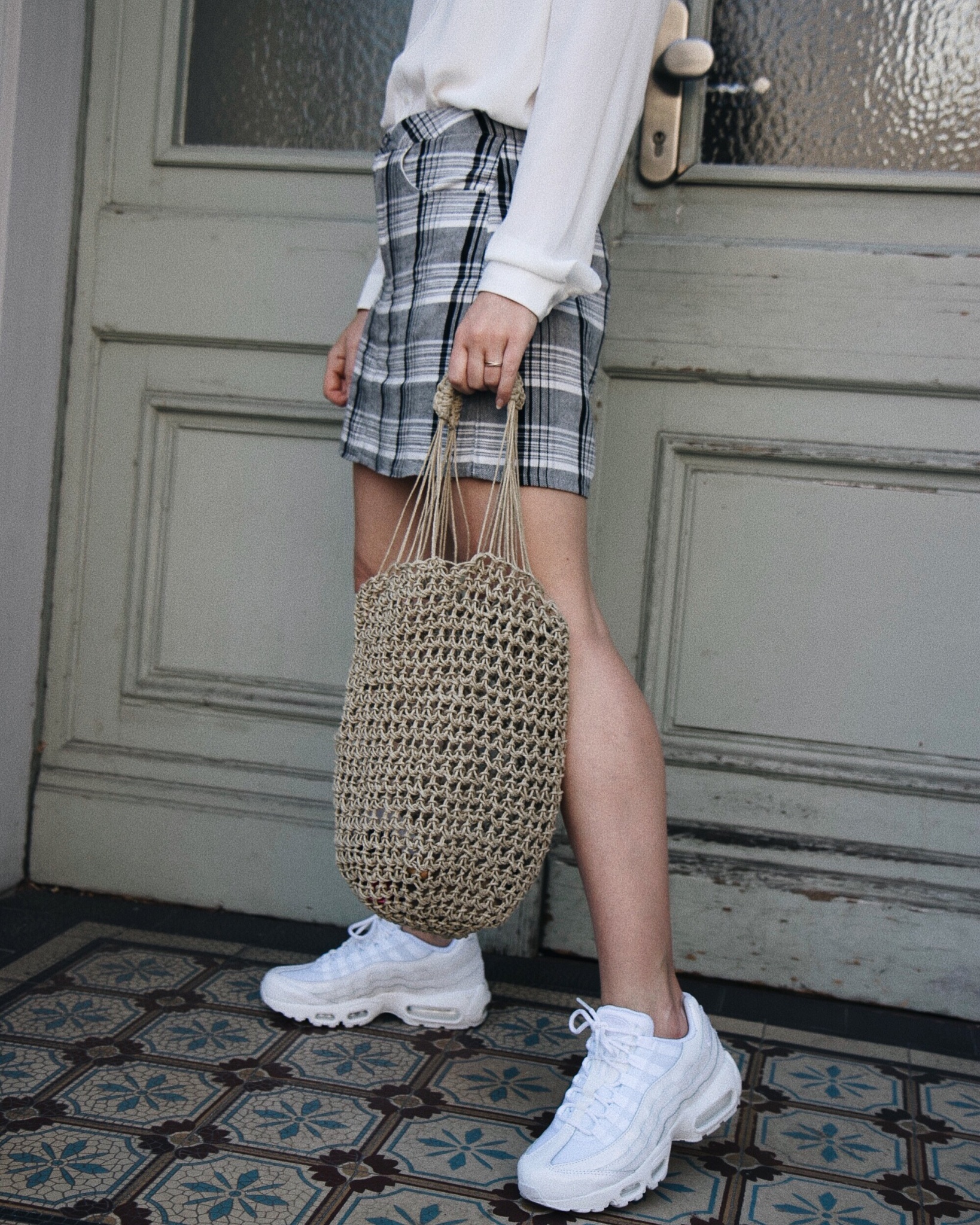 Going to an event like that you might end up going all crazy about the things you should wear. As my outfits were pretty well chosen (still proud of me for that – I normally end up packing too much and having nothing to wear anyways) I think the best advice I can give you is:
BE YOU. Don't try to go all fashionista if you don't feel a 100% comfortable. Wear something that reflects your personality, not only the occasion.
Also: Berlin is full of cool shops and places. So if, by chance, you'll feel like something different, there are a million options to shop.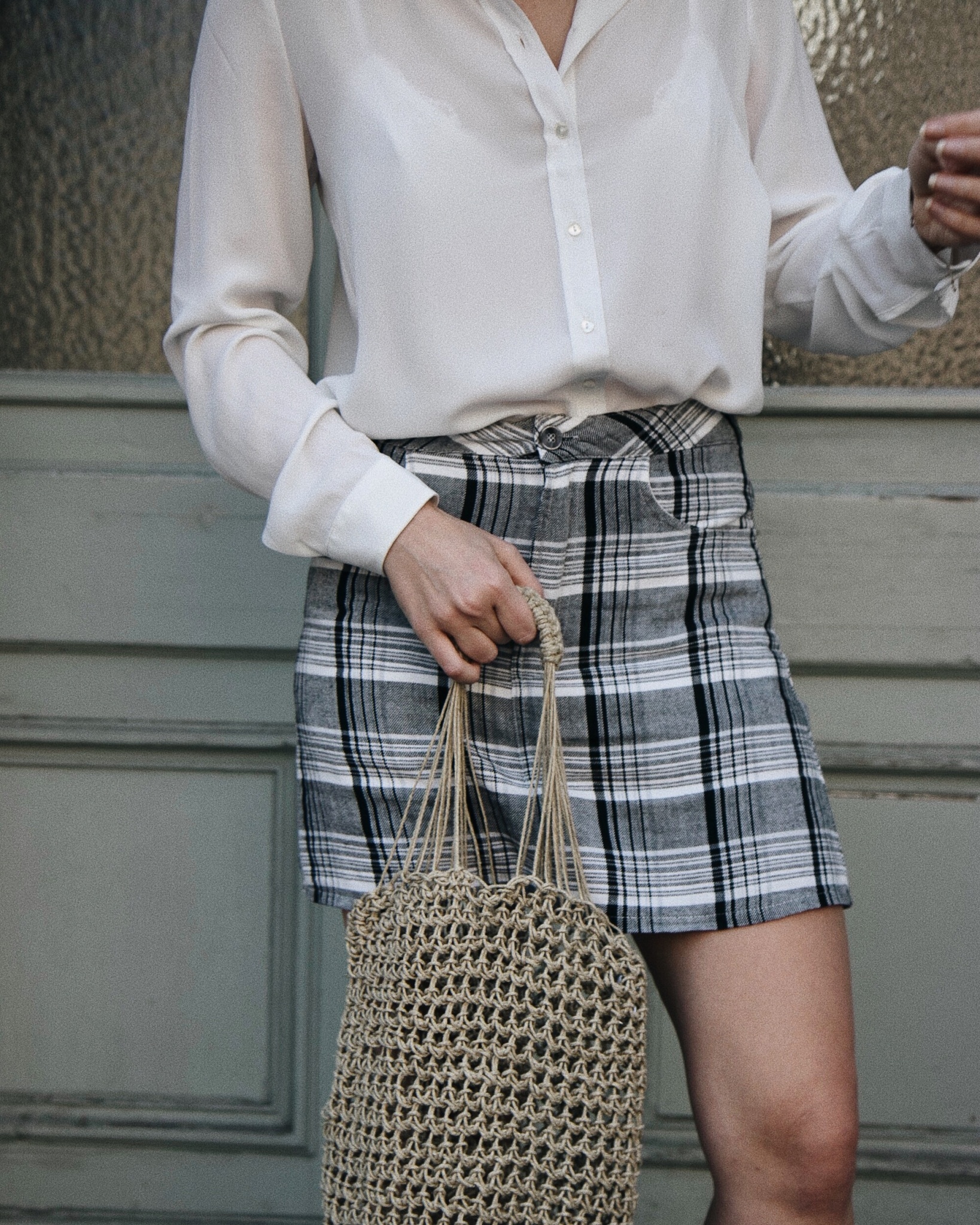 Hope you enjoyed reading! Btw. this lovely lady is my former workmate Christina from 23 timezones. Go, give her blog a read! Pics by her or another beautiful soul: Simone of The Style Polaroid. #womenpower Read about MBFW Berlin also in Kleine Zeitung.
*Includes PR Samples as well as links to companies who did not pay me for this. 😉
Outfit Details
Kicks – Nike Air Max 95 // Bag – Mutus // Blouse – Mango // Skirt – Brandy Melville // Sunnies – Ray Ban Round Metal // Ring – Trinity by Cartier