Of course we are all well aware that beauty starts on the inside and we all try to nourish our bodies as good as we can in order to get that glowing complexion everybody is gushing over. Of course this includes quitting bad eating habits (processed food, sugar… – you name it) and keeping up a balanced diet, drinking yum smoothies etc. Yet very often we are not as consequent when it comes to what we put on our faces on a daily basis and forget to check labels and question ingredients. I decided to make a longterm change in my everyday beauty routine and to go back to paying more attention to what I am using on my skin. Doing so feels very natural to me as the knowledge about plants and the power of herbs is deeply rooted in our family tradition. I grew up watching my grandma collect calendula, yarrow and nettle leaf for making one of her tea specialities, drinking 'Maiwipferlsirup' and using homemade arnica tincture against all kinds of bruises and to help heal sore muscles.
I teamed up with Mangolds and tested some high end natural beauty products for you guys. I came up with an everyday skincare routine that makes my skin feel a lot better, which for me means less redness, a comfortable feeling and I already see a big difference in the average blemish ratio on my face. 😉
Step 1: Cleanse
First things first: Far beyond my teenage years, my face is still struggling with impurities, so I love to wash it every morning and evening to clear it up. As it is also sensitive and dry, my cleanser needs to remove make-up, dirt and excess oil without stripping the moisture from my skin. I really, honestly, truly fell in love with Sóley Organics 'fersk white' foaming cleanser. It contains Icelandic yarrow which reduces the appearance of pores and blemishes but also helps against puffiness and redness. This is literally the best cleanser I've ever used as my skin is for the first time (!!)  not red and blotchy after washing. On the contrary it even looks fresher and more calm. The foam has a subtle lavender scent that does not overwhelm. Sóley Organics is definitely a brand to watch! All ingredients are certified organic and wild-harvested from Iceland's highlands. I AM IN COMPLETE AWE!

Step 2: Tone and moisture
Well, ladies: This comes in handy. The Austrian brand Pure Skin Food actually has come up with a layering skincare system that consists of a moisturizing toner and a facial oil. According to your needs you can easily combine the two and make your own fresh skincare. By introducing this system the brand can completely renounce on preservatives and emulsifiers which are usually used in conventional cosmetics for mixing up oil and water (giving you that creamy consistency). I chose the Skincare Set for Radiant Skin which is suitable for all skin types and is a pure bliss for me. The toning moisturizer smells AMAZING (orange blossom, good for your mood) and helps refining your skin. The beauty oil (lily-starflower-geranium) gives you an awesome glow and also has an amazing smell: It's like inhaling the scent of real flowers – I am always getting all crazy about it, especially after a long day of work it makes me feel relaxed and super positive. Using oils on my face is in general very helpful with my dry skin and does not make me break out. If you suffer from acne, I highly recommend you try using a facial oil as it will help balance your natural oil production. During those first weeks of testing the products, I find my skin being less irritable and a lot more comfortable. All products by Pure Skin Food are made in Graz, organic, vegan and cruelty free (high five for that!). Extra tip: I like to take the toner with me, use it as a face mist and spritz it on my face to refresh during the day. #purebliss Also I use it to set my make-up, so this one really is your bet if you want a product with multiple purposes and are in for saving some unnecessary packaging. 
Once a week: Peel, baby!
Usually I give myself an extra skin treatment once a week and enjoy some me time while getting big on the beauty game.  The L:A Bruket FACE SCRUB Petitgrain  is a very effective yet gentle product for removing dead skin cells and giving you a fresh complexion. The organic brand is from Sweden and uses mostly algae and fine sea salt  from the sea area of Kattegat. Their face scrub also contains sweet almond oil and petitgrain for its astringent qualities. I like to put a small amount of it on my wet face and massage it into my skin softly. I will leave it on for one or two minutes, breath in the pleasing scent of essential oils and then rinse it off. The difference to other peelings is that due to its oily consistency it won't leave your skin dry or dehydrated. Definitely a new favorite and go-to for summer because it brings you that fresh sea breeze home! My better half also fell for it and keeps using it with me.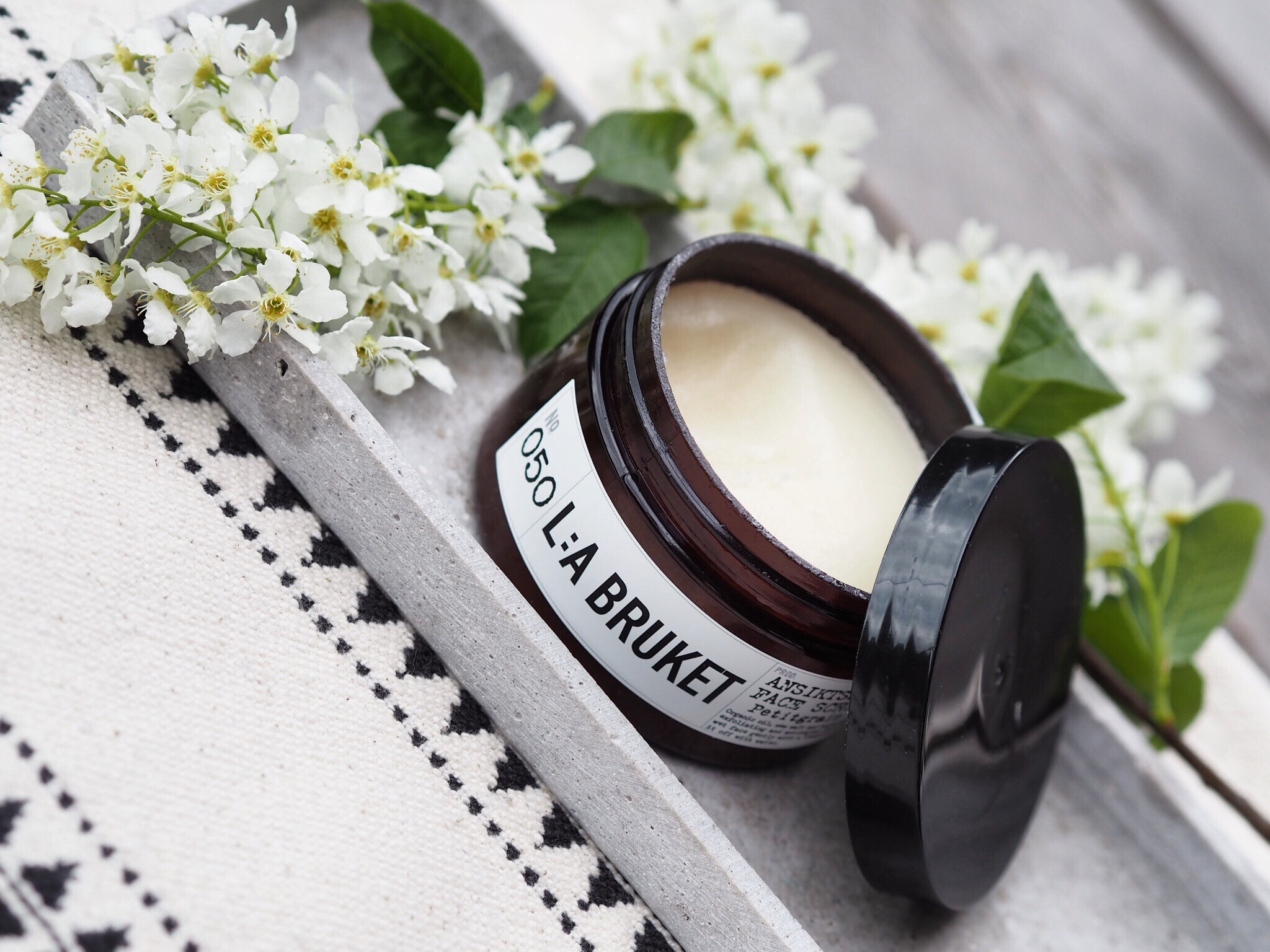 There's more to come: Alternative face cleansers
I told you, this was gonna be a long one! For finding out what works best for me, I also tried two other cleansers. Sóley's foam cleanser is heavenly, but maybe you want to stick to one brand or skincare system only or have preference regarding the texture of your cleanser.
The L:A Bruket cleansing creme and the Pure Skin Food cleansing and detox oil are both very valuable alternatives to my choice from Sóley. If you like cleansing and removing make-up with oil, you should definitely try Pure Skin Food's oil cleanser. If you're more into a creamy alternative, L:A Bruket should definitely be on your list. I found both very pleasing, but Sóley just won over my heart with its immediate anti-redness effect.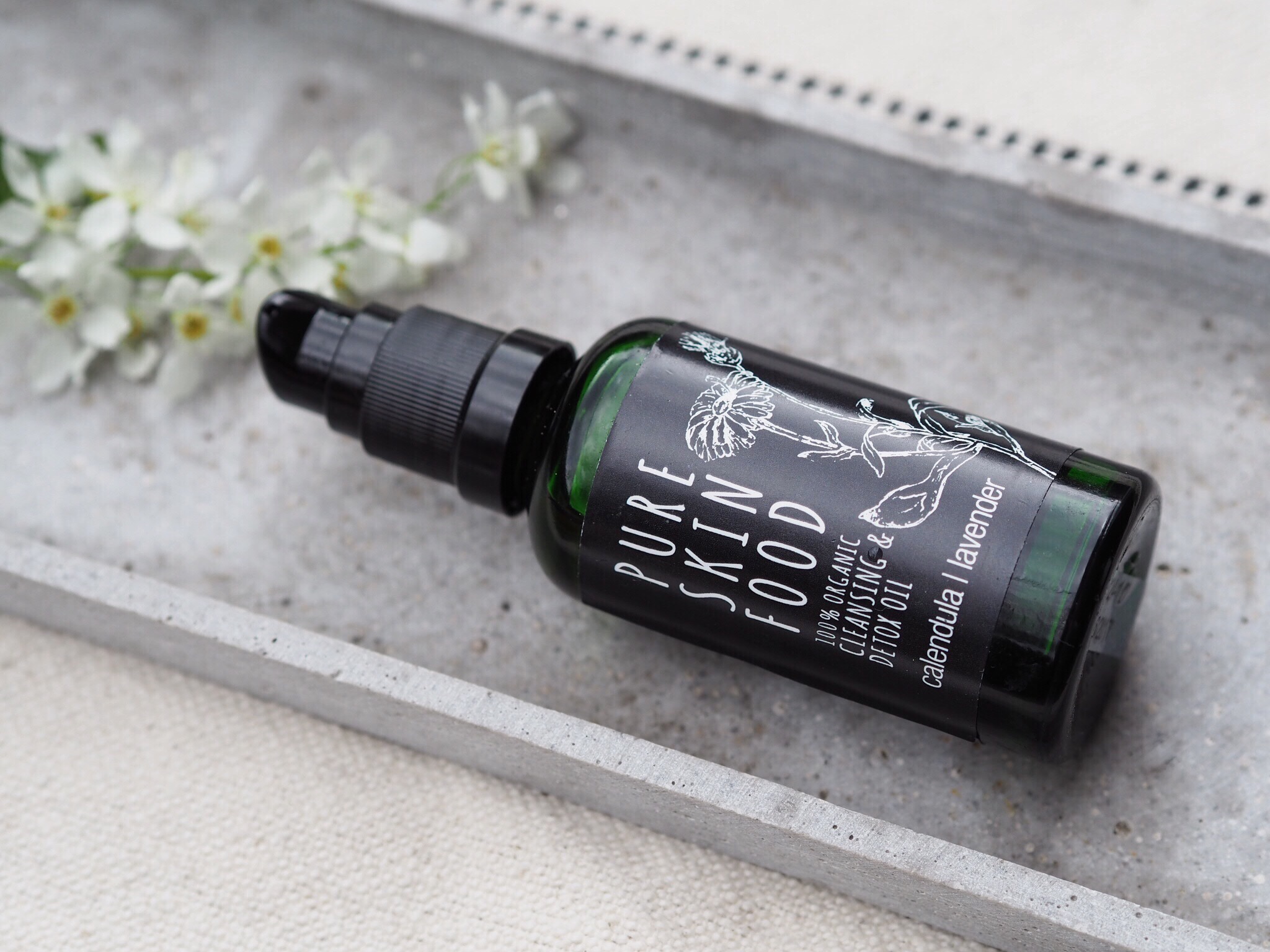 I'd love to hear from your experiences with natural cosmetics, please let me know in the comments if you have any other suggestions for my all new natural skincare routine. I will definitely keep you posted on new finds and my progress regarding that flawless complexion. 😉
Pssst… Order online at Mangolds until the 21st of April 2017 and get a -10% discount on natural cosmetics by using the code NOENVY10. Have fun shopping!
*This post has been published in friendly collaboration with Mangolds. All views are my own.