Wearing your hair like a crown? Yes, yes, yes!  Even if I'd settle for a daisy chain instead of a crown I can tell you it is true: The way my hair looks in the morning does definitely have a huge impact on my overall chances of a good day. As I am writing this, I am sporting third day hair and I cannot tell you how much I am looking forward to indulging in a lovely shower and washing my hair. Thanks to Mangolds, which is not only a Graz based vegan-vegetarian restaurant but also has a wonderful shop and online shop for natural cosmetics, I could lay my hands on some new haircare gems that I want to share with you: Less is More by Brandhuber & Trummer is an Austrian brand specialized in certified organic haircare products which I've come to adore for their simplicity and effectiveness.
I've been using the Lindengloss series including shampoo, conditioner and finishing spray for almost 2 months now and I think it has made a huge impact on how my hair looks and feels. Although the series is for color treated and damaged hair, it does not weigh my hair down nor does it leave an over-treated feeling to it. I do actually need the little extra care for my bleached tips but with my natural hair at the roots, I am super picky when it comes to the right shampoo and conditioner for both needs.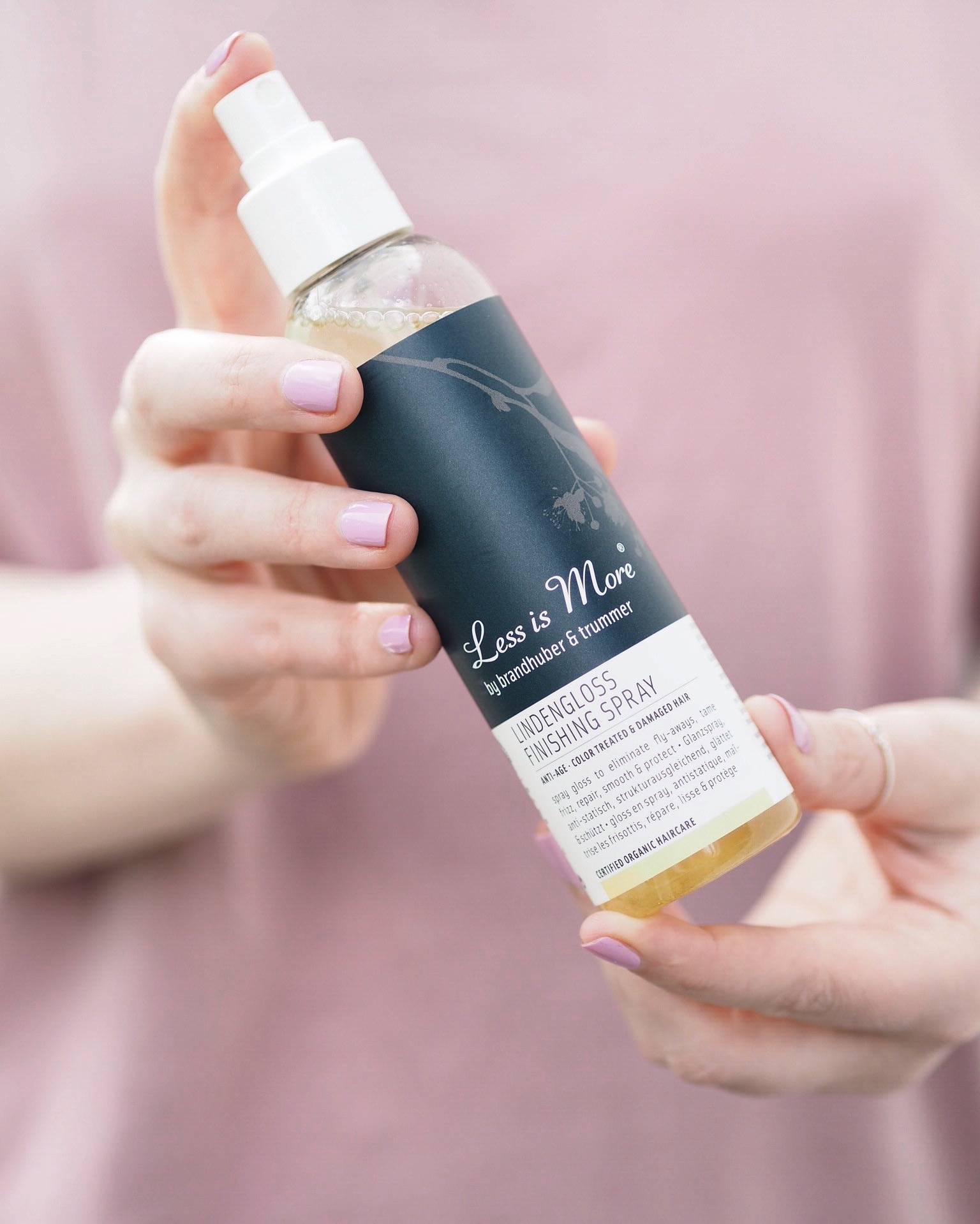 At last week's natural cosmetics day at Mangolds I was able to have a chat with one of the companies spokespersons. I fell in love with their philosophy: You don't even necessarily need a heat protectant before using your curling iron or straightener because there are only good natural oils and ingredients in it that protect your hair from the very inner structure and help rebuilding it in a natural way. Less is more. Btw. Common sense will tell you not to straighten or curl your hair excessively anyway if you want to keep it healthy and shiny, so also dare to go 'au naturel' every once in a while.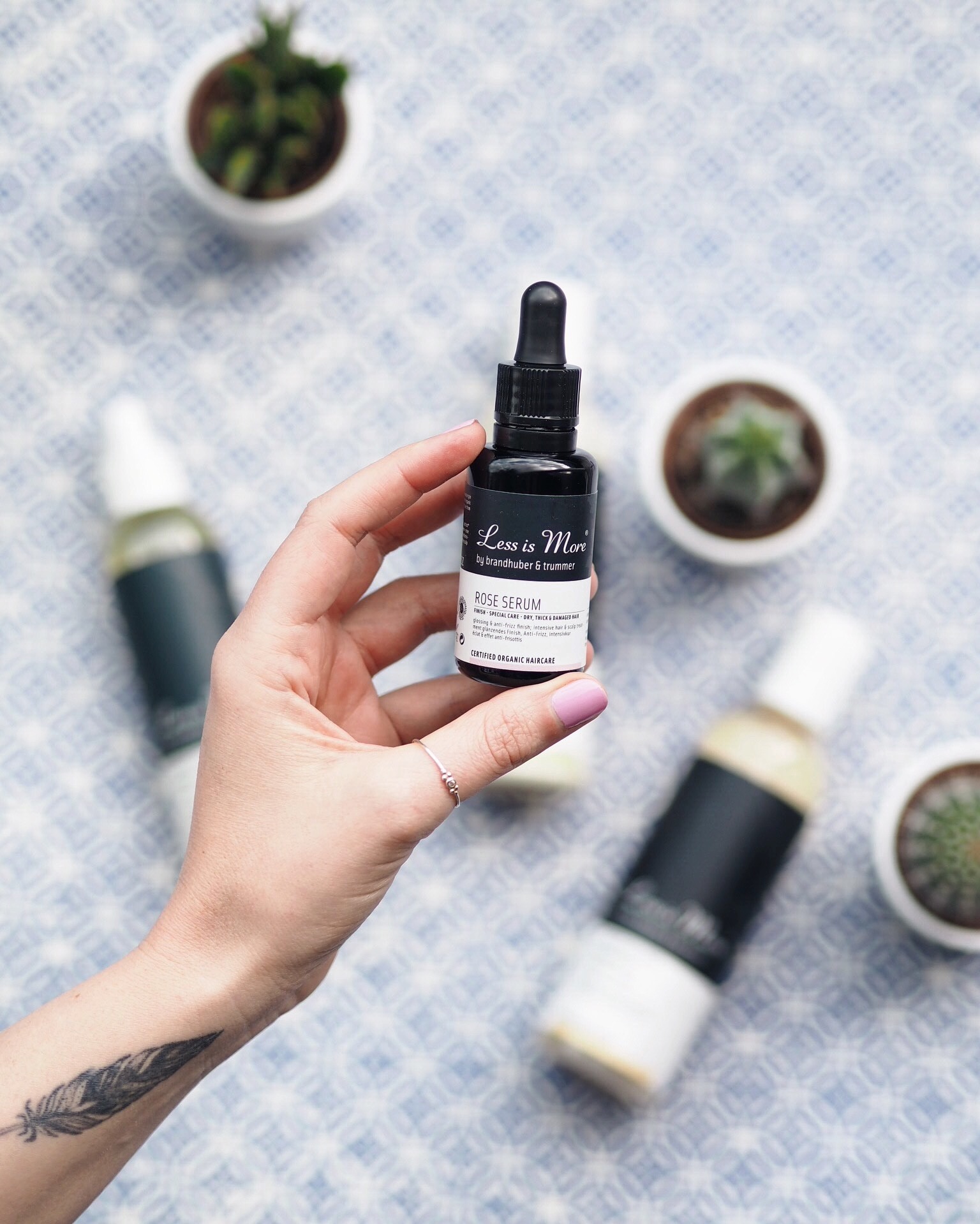 I particularly fell in love with their Rose Serum, which smells amazing and can be used in the ends after blow-drying: Such a lovely way of adding a little shine and to get rid of flyaways. I also received it as a #prsample and instantly fell in love. It has so many uses (i.e. leaving it in over night if you have irritated scalp; working it into wet or dry hair for some shine and care).  For the hair pics you see in this post, I used all products in the following order: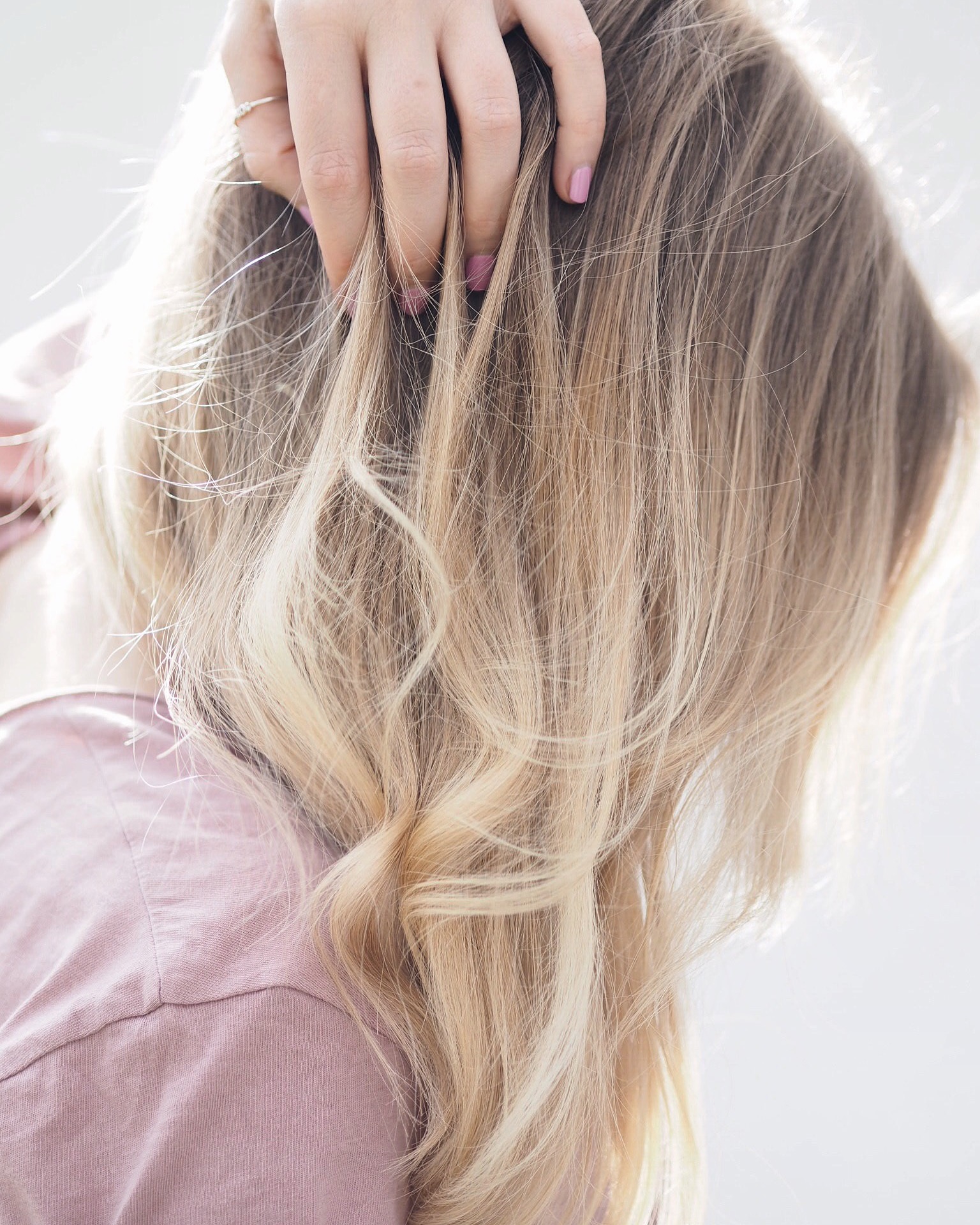 5 easy steps for 'WOW' hair:
Wash with Lindengloss shampoo (I always wash my hair twice but use very little product) and then put the Lindengloss conditioner in the ends only. Leave it in for some minutes if your hair is like mine and needs a little extra care. Rinse.
Use a wet brush or a Tangle Teezer on towel dry hair and blow dry. I like to use very little heat and always dry in the direction of the natural cuticle layer – comparable to the way you should be shaving your legs, you will want to start at the top and point the blow dryer always in the same direction towards the ends. From a safe distance, of course! 🙂
Make sure your hair is totally dry before using styling tools. Straighten or curl as you please. Note: For a 'best hair day' I will wash and blow dry my hair the night before and curl it in the morning. It is so much more workable then!
Use 1 drop of the Rose Serum in curled/straightened ends. It really goes a long way, so good.
Top off with a very little spritz of the Lindengloss finishing spray for shine and protection. (On another note: I'll be taking it with me to the beach this summer, it will definitely help with post-salt-water dryness at the beach!  One product, many uses: That's the bet!)
I really hope you liked my haircare routine, I'll keep you posted on updates/new product reviews via Instagram as usual. Happy to answer your questions and leave some love if you liked this post.
*Thanks for supporting this post Mangolds OUTSTANDING ECO LIFESTYLE.